Corporate Philosophy & Vision
HOME > About Us > Corporate Philosophy & Vision
Hanil Medical Instruments Ltd.
Corporate Philosophy & Vision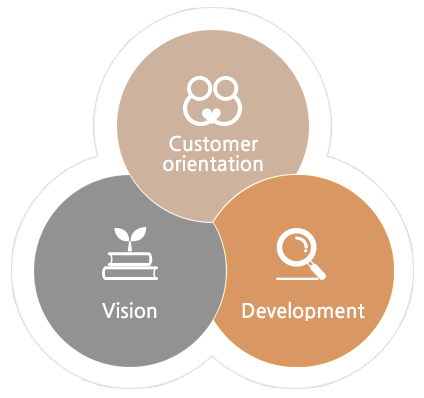 Customer orientation
Grow with customers with value creation for customers We believe that customer satisfaction is our top priority. We promise to grow together with our customers through ultimate customer value management.
Vision
Temple bright future of the company
Respect for the creativity and abilities of the employees, and opportunities for self-development and competence. We can work happily in an organization culture full of positive energy by providing We pursue a happy workplace.
Development
Win-win management Employing fairness and transparency as the principle of corporate activities, Through participation and sharing, we fulfill our corporate social responsibilities as an environment-friendly enterprise. I am taking the lead in creating a clean and beautiful society by fulfilling my role.
Companies seeking happiness and prosperity for employees and customers
We believe that our customers are truly satisfied with the best service and quality We will do our best for the happiness and prosperity of our customers so that we can grow steadily. The future we pursue is to maximize the value creation, not only the development of the company and the individual, but also the balance of work and life Ultimately, employees, business partners, and communities are all happier.